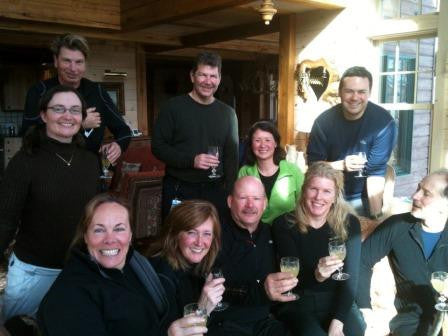 OK, I'll admit it.  I love to wear black.  I wear it to work every day (as do the majority of my female co-workers).  It's safe, and easy, and I believe that it makes me look more serious and professional.  Overall, probably not a bad career strategy (albeit a bit boring).
But when I'm on the slopes, the last thing I want is to dress like I'm at work. I'm here to have fun. And I certainly don't want to look like everyone else.
What always drove me crazy was that, when I shopped at a big box sports store or ski shop, I could only find the most basic of ski apparel styles in the most basic and boring colors.  Black, white, maybe a baby blue mixed in.  And so, after years of limited options, my dresser drawers were filled with black. 
It took this random photo taken at an apres-ski party to make me see just how extreme the situation had become. Ten people, nine black shirts with a lone green one in the middle.  And it wasn't mine.
Since then, I've been on a mission.  To stop the sameness.  To celebrate color.  To let my clothes reflect the joy I feel when I'm on the slopes. So I've sought out unique, high-performance brands that offer interesting patterns and colors.  My favorite item on the website right now is the Krimson Klover "Let It Snow" base layer.  It looks great, keeps me warm, and I can almost guarantee that no one else around me is wearing it.
Stand out!